A quick refresher on the essential nutrients in prenatal vitamins
You understand the importance of prenatal vitamins – and you probably read all about what goes into them the last time. In case you need to jog your memory, here are the essential nutrients you and your baby need right now.
Folic Acid
The most important nutrient you need while pregnant,
folic acid
prevents against possible birth defects in the brain and spinal cord
L methylfolate
Vitafol® uses
Metafolin
, a special form of
folic acid
. Sometimes
folic acid
can be difficult to absorb in the body, so our formulation ensures your body gets what you need.
Iron
Taking an
iron supplement in pregnancy
is vital because iron is what helps carry oxygen to your body tissues. During pregnancy, you need iron to carry oxygen to your placenta.
Iodine
You need additional
iodine in pregnancy
because this nutrient helps support the growth and development of your baby's brain.
Vitamin D
Vitamin D in pregnancy
builds strong bones for you and your baby. After pregnancy, vitamin D is passed into your breastmilk to nourish your little one.
DHA
DHA in pregnancy
is used to support your baby's cognitive growth and development. Many women don't like the taste or smell of fishy DHA, so we use an algal-based one.
We recommend these Vitafol® prenatal vitamins for experienced moms-to-be
Vitafol® Ultra
Tiny but Mighty
Get complete prenatal nutrition for you and your baby with a small softgel, with the doctor-recommended levels of folic acid, DHA, and iron to support your baby's growth and development.
Vitafol® Gummies
The Fun One
A great-tasting and easy-to-chew alternative to traditional prenatal vitamins — ideal for those experiencing nausea. This gummy contains almost twice as much folic acid as over-the-counter brands.
Vitafol® One
You Only Need One
This small all-in-one prenatal vitamin includes DHA, which helps support cognitive and visual development in your baby.
Doctor-prescribed Vitafol® prenatal vitamins
that meet your
unique

needs
See all of the doctor-prescribed Vitafol® prenatal vitamins
Whether you're dealing with exhaustion or have more nausea compared to the first time around, we're here for you. Check out these Vitafol® prescription prenatal vitamins.
SEE doctor-prescribed Vitafol® PRODUCTS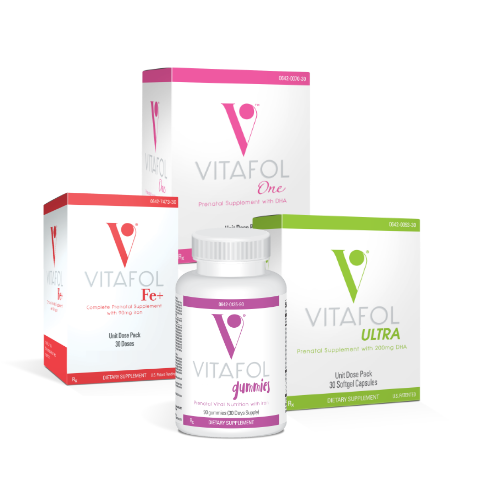 Ask your doctor the right questions
What should you talk to your doctor about regarding prenatal vitamins this time around? Download our Doctor Discussion Guide with the details you need to consider.
DOWNLOAD THE GUIDE
Save on your prescription Vitafol® prenatals
If you're managing your budget in anticipation of your new little one, join our savings program. Each prescription prenatal vitamin refill is as little as $8.33 per month.
Download Saving Card
We can't wait to celebrate your newly expanding
family
Mama, you're doing a great job! In just a few months, you'll be able to meet your new bundle of joy – and we are cheering you on at every step.

At Vitafol®, we understand that each pregnancy is unique. You may have had nausea the first time around, and could be dealing with trouble swallowing with this pregnancy. Whatever the case, we offer a range of prenatal vitamin formulations that are designed to suit your needs.