Here are the key nutrients to pay attention to when you're considering getting pregnant
During pregnancy, the best way to ensure your baby's physical and cognitive development is to take a prenatal vitamin supplement packed with the right nutrition. However, did you know that it's beneficial to start taking prenatals before you are even pregnant?
Here's what your body needs now:
Folic Acid
Folic acid is a vital nutrient your baby needs right from the start. In the first month of pregnancy, your baby's brain and spinal cord start developing, and folic acid may help to prevent possible birth defects.
L methylfolate
Vitafol® uses Metafolin®, a special form of folic acid which is easily absorbed by the body. This helps protect your baby's brain and spinal cord as they begin developing.
Iron
Iron supplements in pregnancy are needed to help carry oxygen to your body tissues, including the placenta. Our formulation is gentle on your stomach so you can avoid any gastric issues.
Iodine
You need about 50% more iodine in pregnancy than you do regularly. Vitafol® contains this useful nutrient to support the growth and development of your baby's brain.
Vitamin D
Taking vitamin D in pregnancy helps with the development of strong bones for both you and your baby. Taking supplemental Vitamin D can also carry over to your breastmilk for your infant.
DHA
To support your baby's cognitive development and brain health, taking DHA in pregnancy is important. We use algal-based DHA instead of fish oil in some of our formulations so you can avoid the fishy taste.
We recommend these Vitafol® prenatal vitamins for women who are thinking about getting pregnant
Vitafol® Ultra
Tiny but Mighty
Get complete prenatal nutrition for you and your baby with a small softgel, with the doctor-recommended levels of folic acid, DHA, and iron to support your baby's growth and development.
Vitafol® Gummies
The Fun One
A great-tasting and easy-to-chew alternative to traditional prenatal vitamins, this gummy contains iron and almost twice as much folic acid as over-the-counter brands.
Vitafol® Fe+
Powered with Extra Iron
If you're experiencing iron deficiency, you can get 90 mg of iron from this easy-to-swallow softgel. While providing you with extra iron, this special formula may also help reduce stomach upset.
Meet
your

nutritional needs with doctor-prescribed Vitafol® prenatal vitamins
See all of the doctor-prescribed Vitafol® prenatal vitamins
Vitafol® has a number of prescription prenatal vitamin formulations to suit your needs. From pills to gummies — we've got you covered.
SEE doctor-prescribed Vitafol® PRODUCTS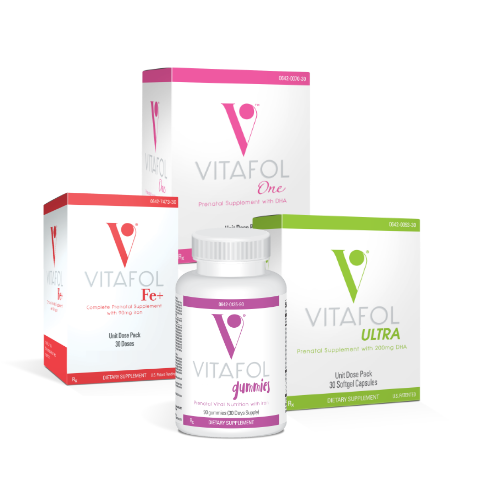 Ask your doctor the right questions
You've got a lot on your mind when you're considering pregnancy and prenatal vitamins. Download our Doctor Discussion Guide to help you find the right talking points for your next appointment.
DOWNLOAD THE GUIDE
Save on your prescription Vitafol® prenatals
Prescription prenatal vitamins don't need to be costly. With our savings program, you can pay less than $8.33 per month on each Vitafol® refill.
Download Saving Card
Try before you buy
Pregnancy changes your tastes and can affect what your stomach can tolerate. Order prenatal vitamin samples for free to see whether you and your baby like Vitafol® Ultra FirstStep or Vitafol® Gummies FirstStep.
Order a free Sample
Vitafol® is here to support
you

as you take your first steps towards motherhood

Making the decision to get pregnant takes time. There are so many questions to ask, so much research to do, and so many prenatal vitamins to choose from.

Let us make your pregnancy journey a little easier by offering you the resources and prenatal options you need.